Dieses LEGO Ducati Panigale V4 1:1 Motorrad zeigt, was alles mit LEGO Technic möglich ist: Hier wurde nichts geklebt.
Eine witzige Idee, wenn auch nicht ganz so spektakulär wie der fahrbare Variante des Bugatti Chiron: Das Motorrad Ducati Panigale V4, eine der LEGO Technic Sommer 2020 Neuheiten, wurde mit LEGO Technic verkleidet. LEGO Certified Profesional Riccardo Zangelmi und sein Brick Vision Team in Italien haben eine Ducati quasi auseinandergenommen und alles was möglich war, mit Technic-Elementen ersetzt. Dabei kam kein Kleber zum Einsatz, sondern viele Pins und Panele. Insgesamt wurden 15.000 Elemente verbaut. Zum Vergleich: Für den Zusammenbau des Sets LEGO Technic 42107 Ducati Panigale V4 R bedarf es nur 646 Teile. Folgend das Video und die Pressemitteilung im englischsprachigen Original. Zuvor zusammenfassend auf Deutsch: "Nur wenige Tage nach der Markteinführung des LEGO Technic Ducati Panigale V4 R Sets haben uns LEGO Italia und Ducati erneut überrascht und präsentieren das weltweit einzige Modell des roten Motorrads aus Borgo Panigale im Maßstab 1:1, das der Künstler Riccardo Zangelmi mit LEGO® Technic Steinen gebaut hat." Weiter schreibt LEGO: "Riccardo, der sein absolutes Debüt mit Technic-Elementen gibt, hat das 1:1-Modell komplett von Hand gebaut und 400 Stunden daran gearbeitet. Damit hat er bewiesen, dass das Konzept "Build for Real" ein Schritt vom Spiel zur Realität ist!" Auf jeden Fall ein beeindruckendes Modell, das zeigt, was alles imt Technc Panelen möglich ist. Es müssen nicht immer System-Steine sein, mit den großen Bauten realisiert werden. Nur im Gegensatz zum Technic-Nachbau des Bugatti Chirons geht es mit diesem Motorrad nicht auf die Piste: Nur gucken und anfassen sind erlaubt. Wir dürfen gespannt sein, was zukünftig noch alles auf uns zukommt.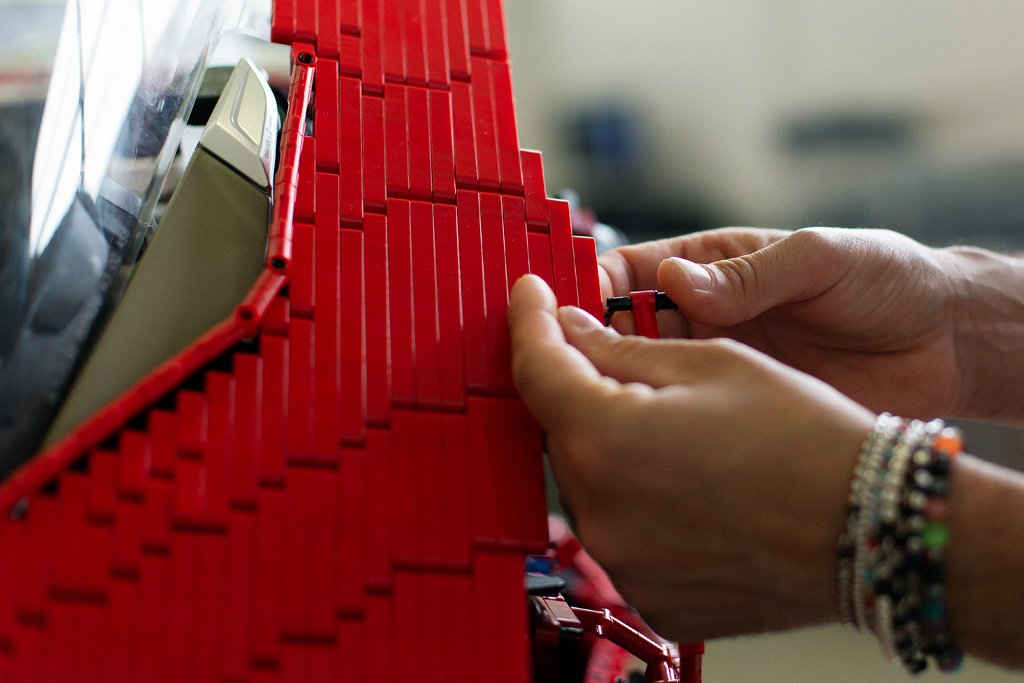 ---
First Ducati Panigale V4 R 1:1 Model
Modena, 19th June 2020 – Just a few days after the launch of LEGO® Technic™ Ducati Panigale V4 R set, LEGO Italia and Ducati have surprised us again, presenting the only model in the world of Borgo Panigale's Red motorcycle 1:1, built with LEGO® Technic™ bricks by the artist Riccardo Zangelmi. Riccardo, who is at his absolute debut with Technic elements, built the 1:1 model completely by hand working 400 hours on it, proving that the concept "Build for Real" is a step up from play to reality!
The Ducati Panigale V4 R and its "twin" built with LEGO Technic elements, an incredible feat by the only Italian artist recognized as a "LEGO® Certified Professional", were placed side by side on 19th June at the Circuit in Modena. Special guest at this event was Andrea Dovizioso, official racer of the Ducati Team MotoGP, and fan of LEGO® Technic™ bricks who, together with Paolo Lazzarin, General Manager of LEGO Italia and Claudio Domenicali, Ducati CEO, unveiled the special 1:1 version.
"I am very happy because I never imagined I'd have the chance to unveil a bike like this. Almost everyone at some point in their lives has played with LEGO bricks at least once, but seeing up close a replica of the Panigale V4 is something incredible and at a very high level. I would like to congratulate the LEGO artist Riccardo Zangelmi for building such a true to life and detailed version of the motorcycle. I'm sure children and adults alike will be captivated by this incredible model", said Ducati Team MotoGP rider Andrea Dovizioso.
Riccardo Zangelmi, who has been creating brick artworks for years and using LEGO Technic for the first time on this occasion, said he was thrilled with the result: "Taking part in this project of LEGO Italia and Ducati was the most exciting professional challenge I'd ever faced. It pushed me well beyond any limit and I succeeded by crossing the finishing line as part of a team. I approached the project as an official pilot of the Borgo Panigale Company, giving it my all on the track, looking for and overcoming new challenges. I was the first to look at the two motorbikes side by side, and I am happy to have captured the DNA that characterizes both LEGO Technic and Ducati, recreating with bricks the motorbike that is symbolic of Italian excellence".
Obviously, the 42107 LEGO® Technic™ Ducati Panigale V4 set created by LEGO Group for the fans of bricks and of two-wheelers, had pride of place at this event. The model measures 32 cm long, 16 cm high and 8 cm wide and is the first motorcycle model in LEGO® Technic™ history to include a gearbox that allows builders to simulate different speeds and driving techniques. Other awesome features include the steering and the suspensions that give the motorbike its realistic movement, not to mention the front and rear disc brakes. A stand, an exhaust pipe, a windshield and a dashboard are also some of the small details that make this replica model so true to the full-size version. And of course, the classic red color is sure to accelerate the pulse of any Ducati fan.
"The Ducati Panigale V4 R is such an elegant Italian icon and a true technological masterpiece", comments Aurélien Rouffiange, Senior Designer at LEGO Technic. "It is a pleasure and an honour for me to see the fantastic work that LEGO Italia and Ducati have achieved. It is fantastic to see how the famous motorbike built with bricks captures the curves and the unique design of the original. Furthermore, I hope that building the LEGO® Technic™ Ducati Panigale V4 R set transmits the same intense emotions that I feel today. It should be viewed as more than just a game, I hope it will be a lure to enter the world of mechanics, power and technology. The beginning of a long journey, full of fun and enthusiasm".
The LEGO® Technic™ Ducati Panigale V4 R model is designed for fans aged 10+ and will be available from LEGO.com from 1st June priced at [$59,99/59.99 Euro]. This new model is the first to be created after a licensing agreement was recently signed between the LEGO Group and Ducati Motor Holding.
Fun Facts
● The Ducati Panigale V4 R with LEGO bricks is the most important professional challenge of the artist
● Number of times the motorcycle was built and disassembled: 8
● Number of times Riccardo thought he wouldn't succeed: just once!
● It is Zangelmi's first professional encounter with LEGO Technic
● Number of LEGO Technic bricks purchased for the project: so many that you could fill a pool!
● Speed of the Model 1:1… in your imagination it runs like the actual Ducati Panigale!
● The secret to win every challenge: work as a Team
● Riccardo's future goals: building a model like this, but dynamic, would be a dream!
Details
● Weight: 180 KG
● Number of bricks: 15,000
● Working hours for the building: 400
● No piece or anchorage is glued
● The most common elements are the BEAMS and the PINS
● Main colors used: red, black, light grey
● Completely designed without using CAD or software
The greatest challenges that Riccardo Zangelmi had to overcome:
● creating the curves between the tank and the lateral fairings
● ensuring stable anchorages in very tight spaces