Im Rahmen der LEGO Fan Media Days 2017 haben wir bereits einiges über die drei Dinosaurier erfahren, die ins LEGO House einziehen werden. Soeben wurde uns die offizielle Pressemitteilung zugeschickt, mit allen Fakten. Besondern beeindruckend: Der Technic Dinosaurier besteht aus rund 300.000 Elementen!
Das LEGO House in Billund öffnet am 28. September seine Pforten. Tickets können bereits vorbestellt werden.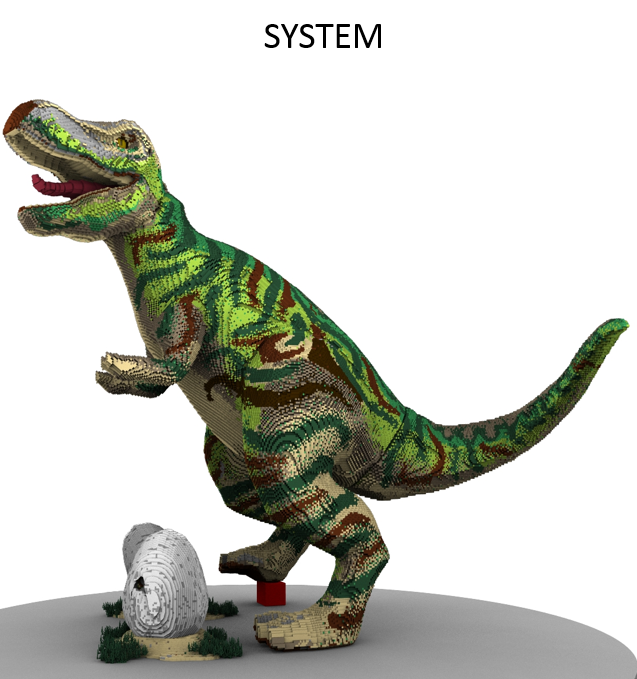 Three dinosaurs to move into LEGO House
The Masterpiece Gallery in LEGO House is the dedicated gallery space where impressive fan-made and fan-inspired LEGO models will be on display once the house opens in September.
This week senior designer in LEGO House, Stuart Harris, was able to reveal that the three giant models on the three podiums in the gallery will be a LEGO®DUPLO® dinosaur, a LEGO®TECHNIC® dinosaur and a LEGO® SYSTEM® dinosaur. Building the same dinosaur in these three systems will result in a very different result reinforcing the message about the endless possibilities of the LEGO brick.
Stuart Harris: "You will notice each of the Dinos appears to be roaring and when you look under the dinos' right foot you can see why. As every parent knows a foot is an ideal way to discover missing LEGO bricks and it's the same for the dinos with an enlarged 1×1 brick being trodden on."
LEGO House decided to take a collaboration approach when developing the three iconic models to be placed on the 3 round podiums representing the 3 tubes inside a 2×4 brick which the Masterpiece Gallery is based on.
A group of 26 AFOLs were invited to help give creative input on the models that would then be produced based on that creative direction by the LEGO modelshop in Kladno.
Stuart Harris says: "We wanted to create some unique and breathtakingly iconic models. At the same time we wanted to create opportunities within the house to showcase the incredible creativity and diversity of the AFOL community."
Working closely with the wider fan community of AFOL's during the development process including the actual architecture of the house, experiences, graphics and even the names used in restaurants has been a high priority for LEGO House.
Harris says: "We plan to refresh the AFOL content to allow more opportunities for fans to showcase their work and in time we'll transition to a more open forum to source the work but for the opening we decided to hand pick suggestions made by the LEGO Ambassador Network."
Facts on the three dinos
➫ Each three meter tall plus 60cm podium
➫ 50.940 DUPLO bricks
➫ 253.274 SYSTEM bricks
➫ 298.431 TECHNIC elements